Commercial and Large Domestic CCTV Installation and Servicing
A Premier Installer of CCTV systems in Northampton and Nationwide for over 30 years
We are a leading installer of commercial and large domestic CCTV systems in Northampton and Nationwide. We only install quality hardware from leading manufactures such as HIK Vision and Honeywell who's cameras deliver amazing picture quality using the latest technology. Our digital recorders (NVR's) can be installed as a stand alone system or added to existing networks and come complete with software licenses,  updates and a recording capacity to suit your requirements. Temperature sensing cameras to detect fire, over heating equipment or body temperature can be added along with vehicle number plate (ANPR) and facial recognition or product/body counting. 
We have installed thousands of systems for a multitude of requirements and our experienced in-house surveyors will always provide a solution to your needs. We pride ourselves on providing a professional service throughout installation and beyond with ongoing maintenance and access to our 24/7 support.  With accredited Safe Contractor, NSI and ISO recognition conforming to British Standards and Data Protection you can be assured you are in safe hands.      
A standalone CCTV system with continuous recording does provide a deterrent in many applications. However, a business operating with periods of closure over night and weekends can enhance their security with our proactive Remote Monitored CCTV Service.  RMCCTV is an external proactive deterrent with a live connection to our 24/7 Control Room providing the ultimate protection from just £4 per day.
We will always recommend the right CCTV system and maintenance package to suit your budget requirements, whatever the size of the property. We can provide additional protection with our Keyholding, Intruder Alarm and Access Control services giving you peace of mind that you have engaged a professional security company with single point contact and around-the-clock support.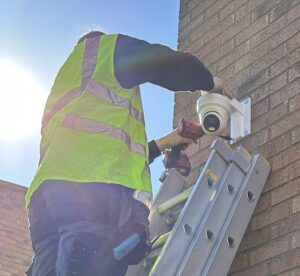 FREE CCTV INSTALLATION SURVEY
We will need to carry out a FREE survey to determine and advise the best CCTV system to suit your property and environment.
Click here to contact a member of the team to find out more.