RAPID DEPLOY, SET-UP AND LIVE PROTECTION IN MINUTES
5 x HD HIK-Vision Cameras, 360 degree Movement Detection and Audio Speakers 
From £36+vat per day fully-inclusive of all service provision
Deployed and connected to our CCTV Control Room within 4 hrs*
360 degree live-monitored CCTV with 24-hour recording
Self-powered – No electric or comms required
Data protection compliant
No hardware investment – Hire for an agreed period
Cheaper & Better protection than a traditional Guard – No amenities or welfare required
FREE mobile patrol attendance to incidents*
Also available to buy – Contract only the Monitoring & Maintenance
HOW IT PROTECTS
Power, Comms and amenities are not always available so following the success of our RMCCTV, a solution was introduced with the Rapid Deploy CCTV Tower that we call the "The Stinger". 
When an object enters the CCTV Tower 360 degree detection area, our 24-hour Control Room instantly receives and records images of the intrusion. Any unwanted visitors are immediately warned away via the loud audio speakers whilst our officers utilise the cameras to capture further information such as features, clothing and any vehicles present to assist in identification and any potential prosecution.
Regardless of any hoodies or balaclavas being worn by intruders, the impact of the audio warning and requested police attendance almost always ends in the same result – they stop and quickly leave or get caught!
APPLICATIONS
Insecure Premises – Domestic, Industrial, Construction Building Sites/Works.
External Storage – Stock, Yards, Fields.
Events – Festivals, Concerts, Celebrations, Public Gatherings.
Crime Hot Spots – Car Parks, Recreational Grounds/ Facilities,                                                                                        Housing Estates, Fly Tipping.
Remote or Isolated Locations – Farming, Water Treatment Centres,                                                                                                     Electrical Sub-Stations.
High Risk environments unsuitable for human presence –  Chemical, Radiation.
3 Day Hire £175 +vat Including Delivery and Installation
7 Day Hire £250+vat Including Delivery and Installation
7 Day+ Hire – Call for Quotation
25% Discount for hiring more than 1 tower.
Emergency Installation on site within 4 hours £149+vat*
Full Payment is required in advance of hire/installation
Additional PIR detection areas – Price on Application and subject to survey
Want to buy a Stinger and only contract monitoring & maintenance? Contact us for a tailored quotation.
Full Installation – fuel, comms & commissioning
Remote monitoring via our in-house Control Room (hours to be agreed)
24hr recording for duration of hire
24hr assistance via our Control Room and Engineers
Review and provision of footage in the event of an incident
FREE Mobile Patrol attendance to incidents (Northamptonshire only)*
Next day reporting of minor incident and immediate contact in emergencies.
Police Liaison with incidents
Fully insured engineer compliance with the site or environment
Accredited Installation as an NSI Approved company
Public Liability Insured
Data Protection signage and compliance
Clear access with two-wheel drive towable terrain.
Minimum 5-meter square area to deploy and install The Stinger
Any network mobile signal 3,4 or 5G
24hr Access to the site in case of emergency
The Client is required to meet our engineer to sign and take delivery prior to set up.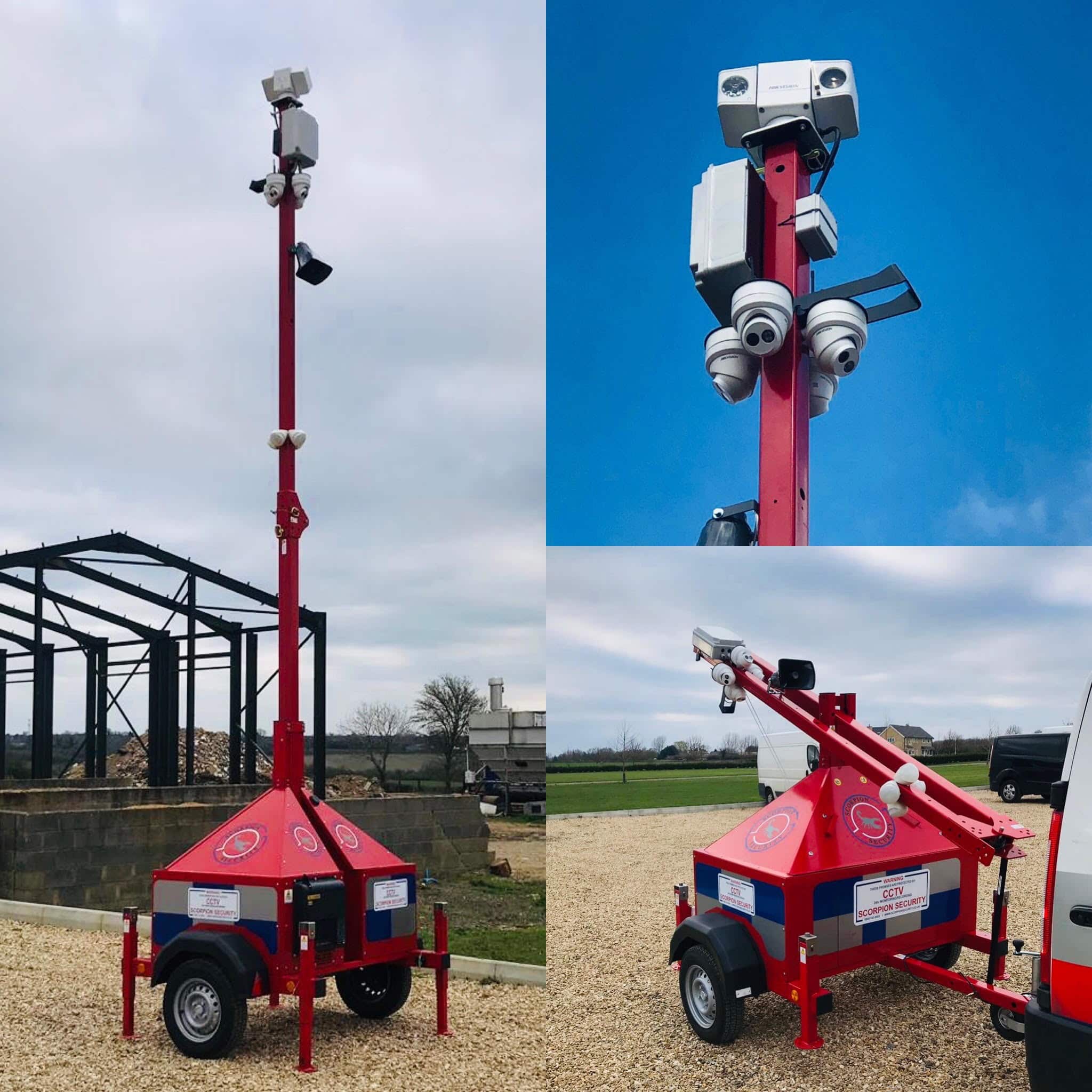 CCTV Tower